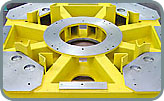 Production of elements of assembly line for gathering of car bodies for automobile industry
We would like to introduce you the produced by us clamping shafts and heads as well as slitting systems for paper and foil
MECHANICAL WORKS MESTIL Spólka z o.o. (Ltd)
has pleasure in introducing its production offer to you. Having modern NC - working machines as well as qualified service staff, enables us to offer you services and products at both a high level of quality and at competitive prices.
• WE PRODUCE:
Spare parts and subassemblies for industrid machines from either our own or entrusted materials.
Pneumatic shafts for the paper and printing industries.
Injection moulds, as well as plastic products.
Energetic and industrial constructions
• WE REALIZE THE INVESTMENT TASKS

• WE DELIVER THE TRANSPORTATlON SERVICES
We are convinced of the benefits which you can obtain from a wide, understanding cooperation with aur company. We are awaiting your interest in aur offer.